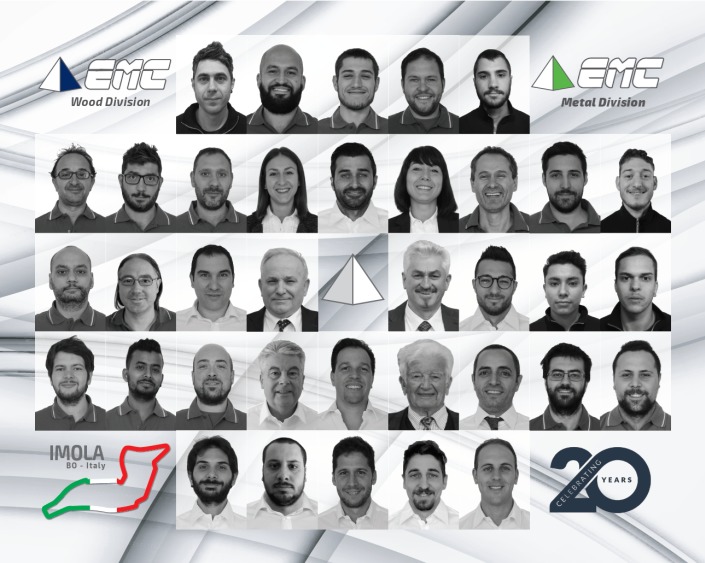 Year 1999
10%


EMC was founded in 1999 in Monterenzio nearby BOLOGNA in a small warehouse of 260 m2, but on solid foundation of the thirty-year experience of its founders, in leading companies in woodworking machinery.
Year 2002
30%


Two years later, in 2002, EMC moved to Imola and entered the new 780 m2 plant.

Over the years, EMC has grown rapidly, and the experience was integrated with the entry into the company of young engineers and technicians who bring fundamental knowledge and ideas about new technologies.

Year 2005
60%


The product range quickly expanded. In addition to small and medium-sized machines, in 2005 the higher range for large industries was develop and built.

Year 2006
70%


In December 2006, EMC moved again to its new premises, 2,300 m2. The moving was necessary in light of the considerable orders increase.
Year 2017
80%


In September 2017, EMC expands further. Upward!

Kardex, an award-winning German company building industrial warehouses, has delivered two vertical warehouses with semi-automatic loading-unloading with connection to EMC management program.

Year 2018
90%


2018 was a revolutionary year for us, because we opened our Metal Division and started the design and production of metalworking machines.
Today
100%


Today, EMC is a very dynamic company with various projects, made already, in progress and under studying.

The main objective of EMC continues to be the performance improvements and price reduction of its range of machines. In line with this objective, a new range of products is planned based on innovative technologies and strong engineering.
Our world wide and European Patent
1. Patent No. BO20141000392
PLANO Multi-purpose working center for MULTIDIRECTIONAL sanding, in the treatment of surfaces
2. Patent No. BO2012A000364
G13. Machine for finishing, metallic and non-metallic parts